Redacted audio, removal of sensitive data like names, phone numbers, addresses, credit cards and more from your recordings.
We all know the importance of data protection, one thing thats often overlooked is the rights of data subjects (people) when distributing or sharing CCTV footage.
As a Data Controller (CCTV Operater) it is important that you understand the principles of the information protection regulations and failiure to comply could land you in hot water with fines issued upto 4% of the total annual worldwide turnover in the preceding financial year.
Show Less
Since the GDPR came into effect the has been an alarming rise in the number of SAR's (Subject Access Requests) from members of the public, what's often overlooked is the need to mask/redact anyone shown in the footage who is not related to the SAR commonly referred to as "Data Subjects" or "People".
As the UK's leading video redaction specialists this is where we can help you to reduce your information protection and security risk. Using the latest advanced technology and expert techniques you can be sure that your processed video footage is made 100% safe and compliant.
Talk to a member of our friendly team to learn more about the range of audio redaction & CCTV masking solutions we offer and see how we can help you stay compliant.
Call us on: 01312 722721 or Send us a message
Audio Redaction & Masking, The Basics…
Redaction involves obscuring identifiable information within individual audio clips. These can be part of a combined audio/video clip or can be on their own.
Audio information that needs specifically removing is often names and addresses, or if a witness during interview refers to another case.
With call centre recordings, the Subject Access Request only actually dictates that an individual is entitled to their own data so we often remove the entire other half of the conversation. Complying with Data Protection law, whilst completely protecting staff.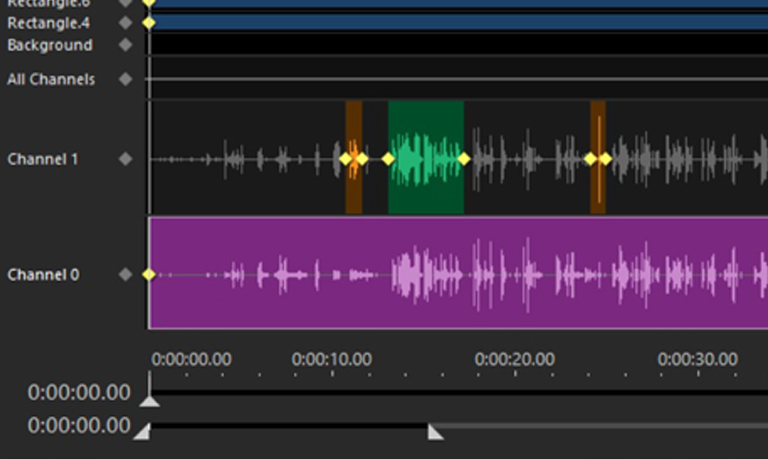 Redacting the data can be done with three types of tool to remove voices from CCTV or other video. The redaction can be a mute, which simply turns off the sound when required, we can also use a beep to go over voices that you need to hide on video, which (although a little annoying) shows clearly where the voices have been covered, avoiding any claims of 'editing' or covering up.
We can also remove voices from clips by applying a 'garble' filter, which disguises the voice on the video, but still allows the listener to hear what is being said. This is the same process that you see on the news where they hide the identity of voices for spies, informants or the vulnerable.
We use Forensic software to ensure the privacy of the obscured footage and prevent manipulation that could reveal the identity or content that has been redacted.
We offer a free no obligation discussion to help understand how your business can outsource your audio redaction requirement without risking your data security and reputation. Get Started Today
Complete Risk Management In 4 Easy Steps:
Stay compliant without the hassle of complex video editing processes and expensive software, plus you have the advantage of our years of experience ensuring your Footage is 100% safe for distribution.
We offer a free no obligation discussion to help ensure you are compliant, it includes advice on what to do and when and how, ensuring your footage doesn't land you with a fine. Get Started Today
1.
Setup Your Data Processing Agreement.
Done in advance, there's no obligation and ensures no delay in processing data.
2.
Free Subject Access Request Guidance.
Receive clear simple steps to follow when you receive a subject access request.
3.
When You Need Us, There's No Delay In Processing.
Follow the guidance provided and we'll quote a price and timescale
4.
Redaction Completed, Your Data Is Safe.
Once redaction and peer review is completed to ensure data quality is controlled.
Secure UK Audio Redaction Services – Your Data Is Safe With Us.
From start to finish you can be assured that we will keep your footage safe, using only vetted personnel and carriers. We do not keep any images and when each job is finished the drives used are electronically 'shredded' for your peace of mind.
Best Evidence technology is Cyber Essentials Certified, so you can be sure that your data is protected to the highest standards, 30 UK police forces have used our services over the last few years so you can imagine the level of security & processes we have in place.
Talk to our friendly team to learn more about the range of audio redaction services we offer or to discuss your requirements in more detail. Call us on 01312 722721
Need Help or Advice?
Our friendly team of specialists are available to discuss your requirements in detail, we are here to help ensure you choose the right product to meet your needs.